Droonga 1.0.8 has been released!
2014-11-29
What's Droonga?
Droonga is a distributed full text search engine, compatible to Groonga. A Droonga cluster works like an HTTP server compatible to Groonga with the replication feature.
Are you interested in Droonga: how it works and how useful? Let's try the tutorial for an introduction, and see the overview to understand Droonga's design strategy more and more.
Improvements in Droonga 1.0.8
This release Droonga 1.0.8 contains many improvements. Major topics are here:
Orchestration of front-end HTTP server nodes
A front-end HTTP server node based on droonga-http-server has become to a member of the Droonga cluster truly.
In old versions, a droonga-http-server node was strongly bound to a droonga-engine node. So, if a droonga-engine node died, droonga-http-server nodes associated to the droonga-engine node also died.
But now, the limitation has been gone. Even if one of droonga-engine node become unavailable, droonga-http-server nodes keep them working with active droonga-engine nodes automatically. Moreover, a droonga-http-server node distributes requests from clients to multiple droonga-engine nodes. In other words, now it works like a simple load balancer.
Better performance for search operations, especially with groupBy (Groonga's select with drilldown options)
The performance issue around groupBy is solved for replicas with single slices. Moreover, search operations with offset option also optimized.
Benchmark results (comparisons with Groonga) are here: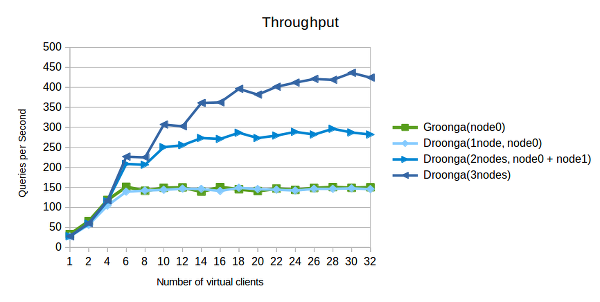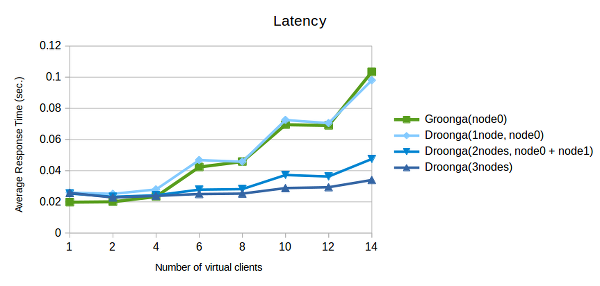 Conditions:
There are 1500000 records from Wikipedia (Japanese)
All requests are full-text search queries for actual page titles, with drilldown, like: /d/select?command_version=2&table=Pages&limit=10&match_columns=title,text&output_columns=snippet_html(title),snippet_html(text),categories,_key&query_flags=NONE&sortby=title&drilldown=categories&drilldown_limit=10&drilldown_output_columns=_id,_key,_nsubrecs&drilldown_sortby=_nsubrecs&query=Wikipedia%3AText+of+GNU+Free+Documentation+License
Supposed cache hit rate is 50%.
Measured on physical PCs for development.

node0: Ubuntu 14.04LTS, Intel Core i5 M460 2.53GHz, 8GB RAM
node1: Ubuntu 14.04LTS, Intel Core i5 650 3.20GHz, 6GB RAM
node2: Ubuntu 14.04LTS, Intel Core i5 650 3.20GHz, 8GB RAM
client: Ubuntu 14.04LTS, Intel Core i5-4300U vPro 1.90GHz, 4GB RAM
Detailed results are downloadable.
As above, currently throughput performance of single Droonga node is comparable to Groonga. Moreover, throughput limit can be extended by adding more Droonga nodes to the cluster.
On the other hand, there is a little latency basically on Droonga. However, large number accesses turn the advantage around the upper limit of Groonga. If there are too many requests, Droonga can respond quickly than Groonga.
Better compatibility to Groonga
Some minor incompatibilities have been corrected.
select command:

The output_columns option accepts whitespace-separated list of column names (compatible to Groonga's command_version=1 form.)
output_columns=* works correctly for TABLE_NO_KEY tables.

column_list command:

A _key virtual column is correctly appear in the result, for tables with one of flags: TABLE_HASH_KEY, TABLE_PAT_KEY, and TABLE_DAT_KEY.
At an index column, its source is now compatible to Groonga's one.

table_create command:

The key_type parameter becomes required for TABLE_HASH_KEY, TABLE_PAT_KEY, and TABLE_DAT_KEY tables. You'll get an error response, if the parameter is not given. (Groonga unexpectedly accepts table_create requests without key_type parameter, but it is a known issue.)
Detailed list of all improvements
Conclusion
Droonga 1.0.8 has been released!
Front-end HTTP server nodes are now orchestrated as nodes in the cluster. Droonga clusters now work more robustly.
The throughput performance is comparable to / better than Groonga now.
It becomes more compatible to Groonga.
Droonga project will release a new version every month!
Droonga project welcomes you to join us as a user and/or a developer! See community to contact us!